I got my Iphone 4 Bumper thru apple online site. After I received it, I was kinda not satisfied with it and I did'nt expect that this bumper is protection for 4 sides of iphone 4 only, maybe I just did'nt understand the item before I decided to order it.

I've already used this bumper for more than 6 months and as time pass by I learn to appreciate it and like it even more compared to other protective case for Iphone 4 that are available in the market that are bulky.
This Iphone 4 bumper is very light and simple. It helps and protect your Iphone 4 from sudden drops.
One thing I just dont like, it limit the usage of 3rd party headphone. You need to take it out inorder to fit other headphone as well on other dock connectors.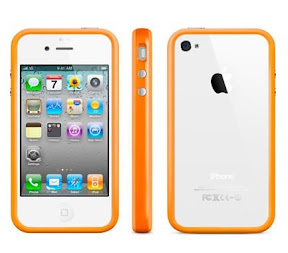 Made of durable rubber and moulded plastic, the two-tone iPhone 4 Bumper fits snugly around the edges of your iPhone 4 and gives it a splash of colour. It's a fun and unique way to personalise your iPhone 4.
Dress up your iPhone 4 with an iPhone 4 Bumper. Choose one of six colours — white, black, blue, green, orange, or pink — and slip it around the edge of your iPhone 4. With metal buttons for volume and power, two-tone colors, and a combination of rubber and moulded plastic, Bumpers add a touch of style to any iPhone 4.
Price: Php1690.00
- Posted using BlogPress from my iPad